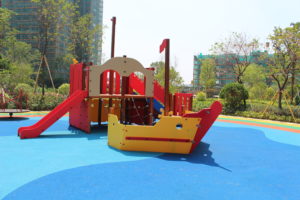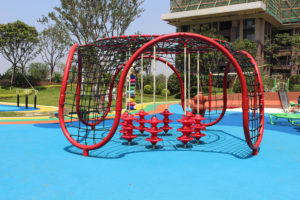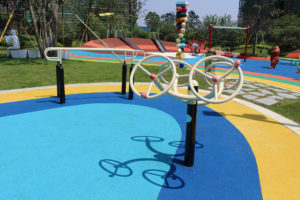 Outdoor playground in Foshan
For the playground equipment project, custom-designed, furnished, and installed a new and challenging systems
playground and freestanding  play  equipment.The outdoor park playground contains a large variety of Revolution climbers,
slide, a large structure, Shaking horse,fitness equipment and much more.Playground equipment is now not looked
at playground equipment alone, these park playground  are actually gyms where little children exercise and develop their motor skills.
When children play on play equipment, they may like to climb a real mountain or a huge rock.
Family of Childhood holds the belief of market oriented, quality first, integrity premised, innovation and serving the society.
And we are gradually formed the products system which is mainly produce the children slides, kids furniture and otherkindergarten facilities.
We have followed international safety standards for all our products.
The main material of the park playground  is Metal parts:Galvanized pipe size 114 mm & thickness 2.5 mm with color powder coated.
           Plastic parts:Polyethylene (LL DPE) high-density,Sandblasted, triple layer painted, color baked indistinct
We  always aim at bringing the happiness to the Children all over the word!We strive to develop into one of the world's largest
park playground manufacturers.
Moreover, the quality and beauty of our products reached the world's advanced level. So choose us are  not only choosing a
high-quality product. But also chose a perfect service system. As we are providing an integrated service of value risk assessment,
transport, and installation. So we can solve major worries of customers. Therefore, we gain a reputation in the business.
         Finally.I want to assure you that we are the best choice for you. And I am sure that we will not let down if you chose us.
So, our team committed to be your service. So, please just feel free to contact us, if you want to know more about us and our
products. Of course, we will be very happy to hear from you.  You also can visit our home page and leave you.